Henry Hut here, back again, with another one of my Shocking reports!
I am going to share a fact with you.
You may already be aware of it, but just in case you are not here it is:
Kinder eggs are banned in America.
Just let that sentence sink in for a second.
That sickly chocolate egg shell with a toy inside is banned in America.
This is due to the potential choking hazard.
Guns however are allowed.
Since 1938 The people in charge of America have decided that Kinder Eggs are too dangerous to be allowed inside the borders of the good ol' USofA.
Last week a nine year old girl killed her gun instructor by accident.
A nine year old girl is allowed to handle and FIRE a semi automatic gun full of bullets. But under no circumstance is she allowed to eat a thin bit of chocolate.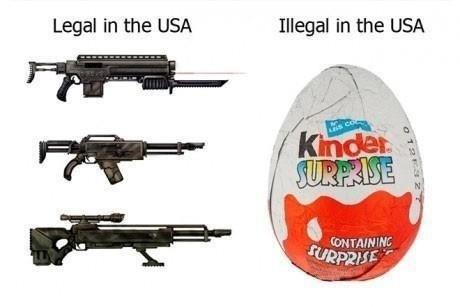 The fine for smuggling (yes smuggling) Kinder eggs across the border from Canada to the USA is $2500.
How bizarre.
It seems that everybody in the USA is carrying and/or shooting a gun at their fellow patriots on the basis that it is their right to do so.
It's written down on a bit of paper somewhere and there's nothing anybody can do about it.
However, the nation that chooses the Leader of the Free World refuses to let anybody eat a Kinder Egg on their soil for fear of being fined a months wage for most of us (if we're lucky!)
But what is the real reason for not allowing folks to enjoy the treat-that-is-also-a-toy?
As we said before, the official reason is that it is a chocking hazard, but is nonsense because nobody ever died from eating a plastic dinosaur. EVER.
So it must be something else.
Maybe Americans don't want their children being obese?....
Maybe they are just scared of having fun?
Could be.
I have a different theory.
I think those in charge of import/exports don't understand what a Kinder Egg actually is.
A toy wrapped in chocolate is a strange concept to explain to somebody from a nation who will give you a 15% discount on your meal if you pray before eating but insists that religious extremists should be wiped off the face of the Earth.
For a country that can not spell colour properly and wear t-shirts of themselves being arrested... whilst being arrested one would think they had some tiny hint of humour about life.... apparently not.
BUT WAIT!
There may be some hope.
in 2013 one man realised that if the chocolate DID NOT cover the plastic egg completely, then the US officials would allow this child killer into the US.
And they did.
Because a little bit of the plastic can be seen before eating - it is now acceptable to buy and eat kinder eggs on American soil.... under the name CHOCO TREASURE.
America - Home of the brave........... I don't think so.
I've been Henry Hut.
You have been Facted!